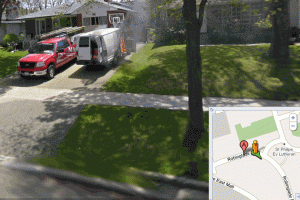 Google street view finally launched in Canada few weeks ago. I had sighted the streetview camera car on Highway 407 some months before and trailed it. Here is the link to photos of the streetview car, http://www.gamescheat.ca/2009/06/google-maps-street-view-car-in-toronto-ontario/.
The Google street view camera captured everything that it came across, including this picture of a burning van parked on a residential driveway. Google has since tried to remove the image, but you can still get a glimpse of it if you know where to find it. Looking at the image of the burning van there is no indication that the driver of the street view car attempted to stop and assist in anyways. It is obvious that the driver sped by the burning van, it is impossible to not have seen huge orange flames and smoke leaping from the van.
If you want to find this image on Google street view, then here is the address, 40 Robinglade Road, Toronto, ON. If you see a black image (with the message that the image has been removed) then scroll the the right and you will be able to see the side view of the house and burning van.